About us
Electrex World has been manufacturing motorcycle electrical components in the UK for over 25 years.

99% of our products are manufactured by Electrex World in the UK using state of the art equipment. Our products use high quality components and have proven to be very reliable.

We are proud to be Original Equipment Manufacturers for several companies and we sell to many distributors throughout the UK as well as exporting to Europe, Canada and America.

All of our products are competitively priced and many are cheaper than brand name parts.

How to contact us
Business Hours:
Monday - Friday 9.00am - 5.00pm
Please note that orders received after 3pm will not be sent out till the next working day.

Click here for Sales Enquiries
Click here for Technical Enquiries

Tel: +44( 0 )1491 682369
Fax: +44( 0 )1491 682286
How to find us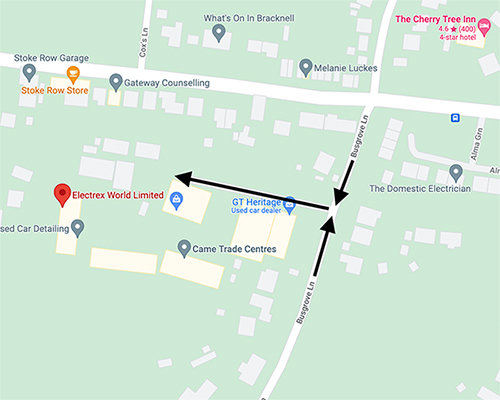 IMPORTANT: Please note we are a manufacturing company and do not have the facility to accommodate customers unless they have a
pre-booked appointment. If customers do show up without an appointment there may not be always be someone available to discuss their requirements.

Units 43 - 46
Vanalloys Business Park
Stoke Row
Oxfordshire
RG9 5QW
England